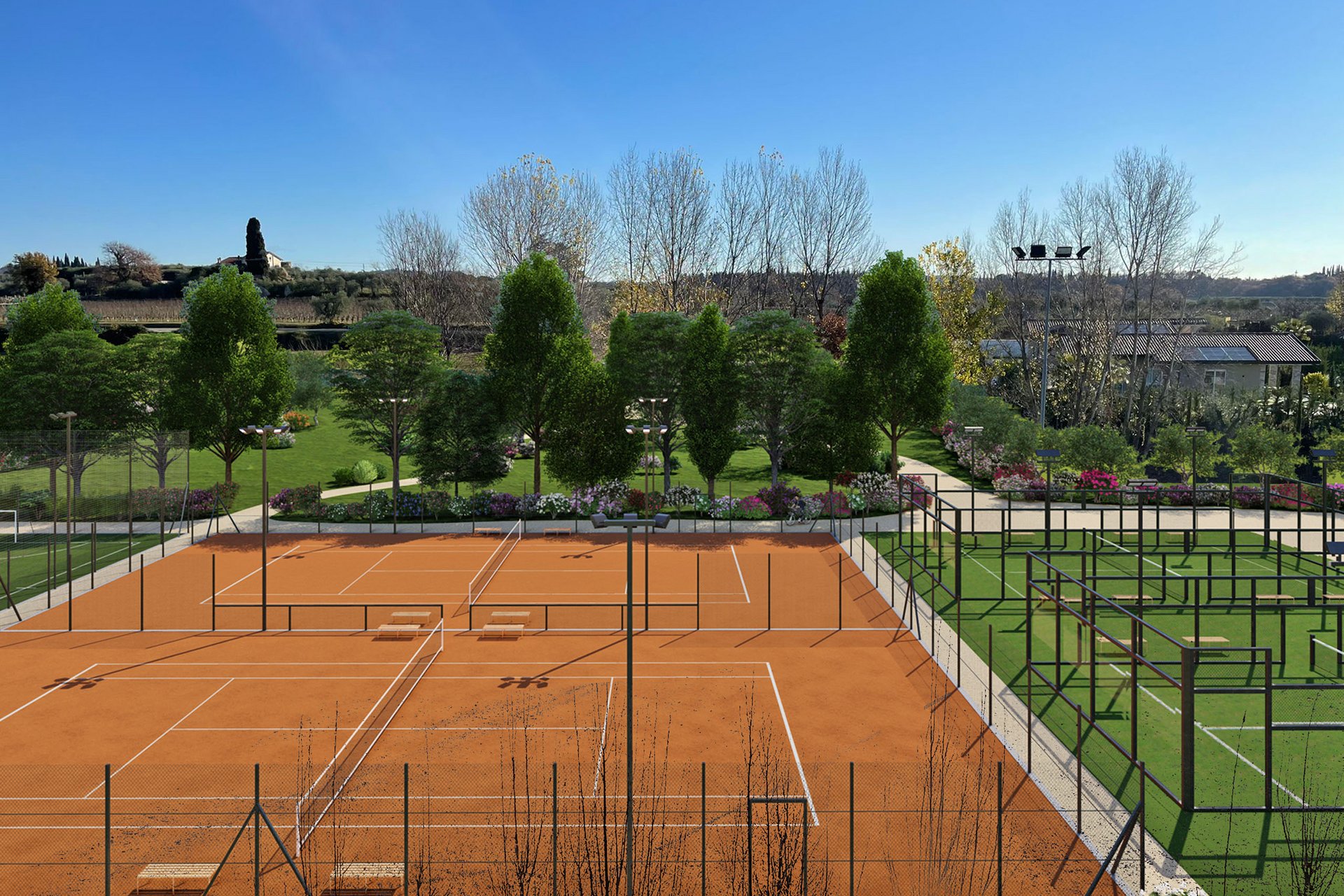 Moving matches at the five-star hotel with tennis court at Lake Garda
Tennis dreams come true.
You focus, feeling the soft, felt texture of the tennis ball in your hand. You let the ball bounce, take a swing, and send it effortlessly from your hip over the net. Your partner hits it back. The ball travels back and forth over the net, against the glass walls, and with a perfect shot, over the net once more. Who will win? In our luxury hotel with tennis court at Lake Garda, countless exciting matches take place on the two padel tennis courts and the two hard court tennis courts, which are easy on the joints. If you are spending your tennis holiday at Lake Garda, then the Quellenhof Lazise, your luxury hotel at Lake Garda is the perfect holiday retreat. Why? Because we offer the best special offers for tennis enthusiasts. And the best part? Thanks to the region's mild climate, you can enjoy your favourite sport almost all year round, from January to November, at our hotel with tennis court at Lake Garda.
Tennis highlights at the hotel with tennis court at Lake Garda
As you may have gathered from our history, tennis holds a special emotional significance at our luxurious hideaway. Our senior manager Luise Dorfer, a pioneer of tourism in South Tyrol, was the first in the region to include a tennis court at a hotel. The pioneering spirit continues at our tennis hotel at Lake Garda, where we offer guests numerous highlights:
Two joint-friendly hard tennis courts
Two padel tennis courts
Free use of the four tennis courts
Free rental of tennis equipment
Private tennis training sessions with tennis pro Klaus Moik
Season preparation with our partner European Tennis Academy
More offers for your tennis holidays at Lake Garda
At our sports hotel at Lake Garda, you can pursue your passion for tennis on your own or take part in one of our special training courses or camps.
We offer the following courses at the Quellenhof Luxury Resort Lazise:
Individual training | €60.00 per person
Partner training | €65.00 per person
Children's courses | 5 x 1 hour | €100.00 per person
Tennis camp | 5 x 1.5 hours | €185.00 per person
Tennis camp | 3 x 2 hours | €150.00 per person
Tennis camp | 5 x 2 hours | €240.00 per person
The camps at our hotel with a tennis court at Lake Garda require a minimum of three participants; however, the courses can be booked by individuals. If a course cannot proceed due to insufficient participants or significant differences in skill levels, individual training sessions can be arranged as an alternative.