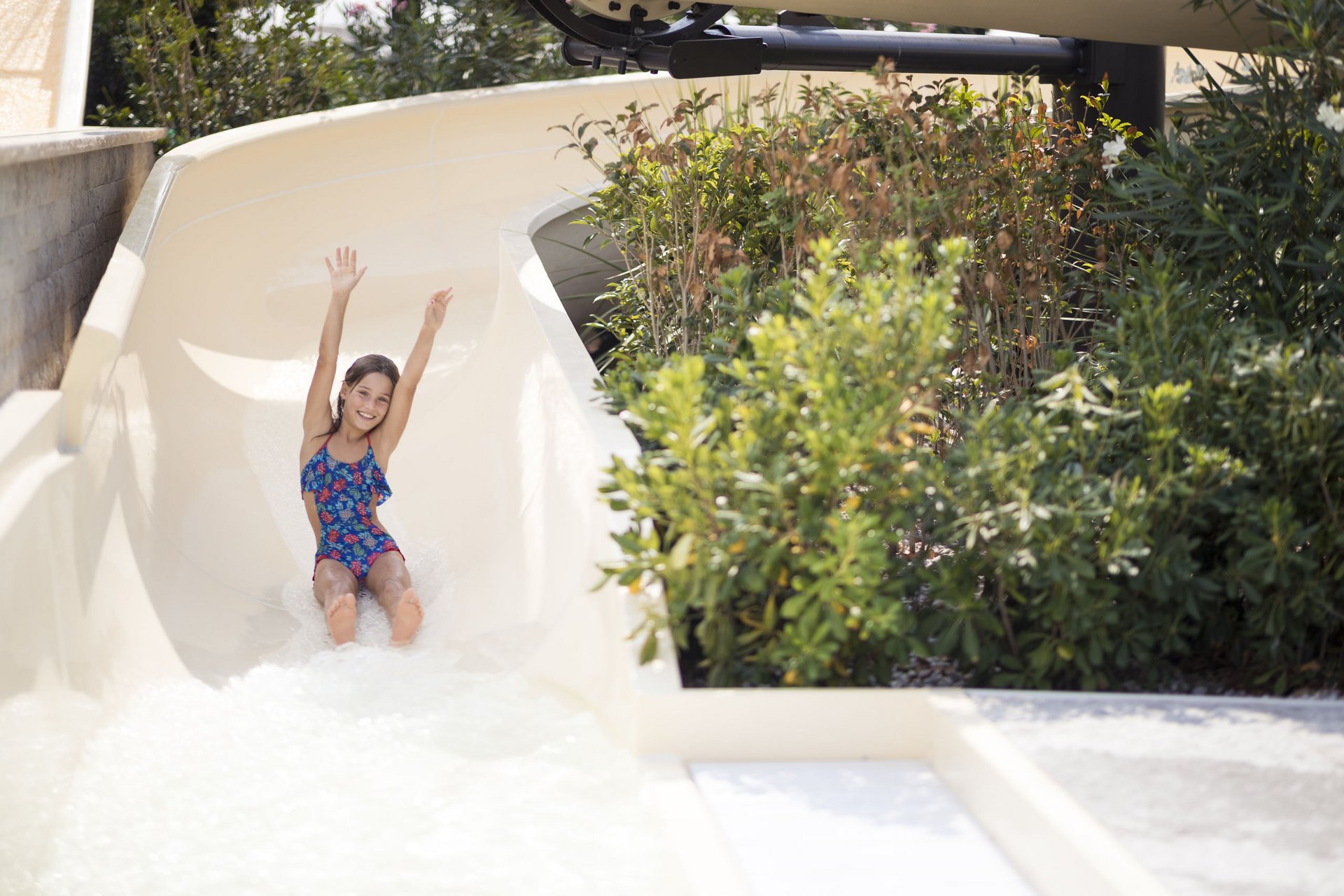 Water fun and playtime at the 5-star family hotel at Lake Garda
Embracing childhood
Have a water fight. Race against the other children. Go down the waterslides again and again. Climb into the tree house and chill out for a while before splashing around some more. At our 5-star family hotel at Lake Garda, we know exactly what children want on holiday. Little ones from the age of four can let off steam in our shallow outdoor children's pool with a sun awning. It is filled with Grander® water and is open from mid-April to October from 7 a.m. to 8 p.m. The children's laughter and shouts of joy ring out from the long, winding water slide. Climbing up and sliding down, again and again. And there's never a dull moment on the wave slide at the children's hotel at Lake Garda. Next to the pool and the slides, the kids will find a play area with a tree house, a climbing frame, and more.
Even more wellness pleasure for little guests
Children can not only unwind in the water world, but they can also have their first sauna experience. The two family saunas are designated as dress-on areas and are specially designed for families. Cosy relaxation areas and moderate temperatures will delight both big and small sauna fans here at the Quellenhof Luxury Resort Lazise.
Children's pool & water slides
Experience family fun in the children's pool with water games and slides. The sports pool and natural swimming pond are also great for splashing around.
Spend your luxury holiday in our family suites. Exclusive suite in the main house or family apartment in the residence? The choice is yours.
So that youngsters can get active and play with their peers, there is a new football pitch directly at the resort.
Family excursions around the 5-star family hotel at Lake Garda
Would you like to make the most of your family holiday experience, spend precious time together, and create memories that your children will never forget? Then we have the perfect tips for unique day trips for you at the dog-friendly hotel at Lake Garda. Just imagine: amusement parks, water parks, and so much more. This is true luxury at the family hotel at Lake Garda. If you require more information and details, our reception team will be happy to help you.