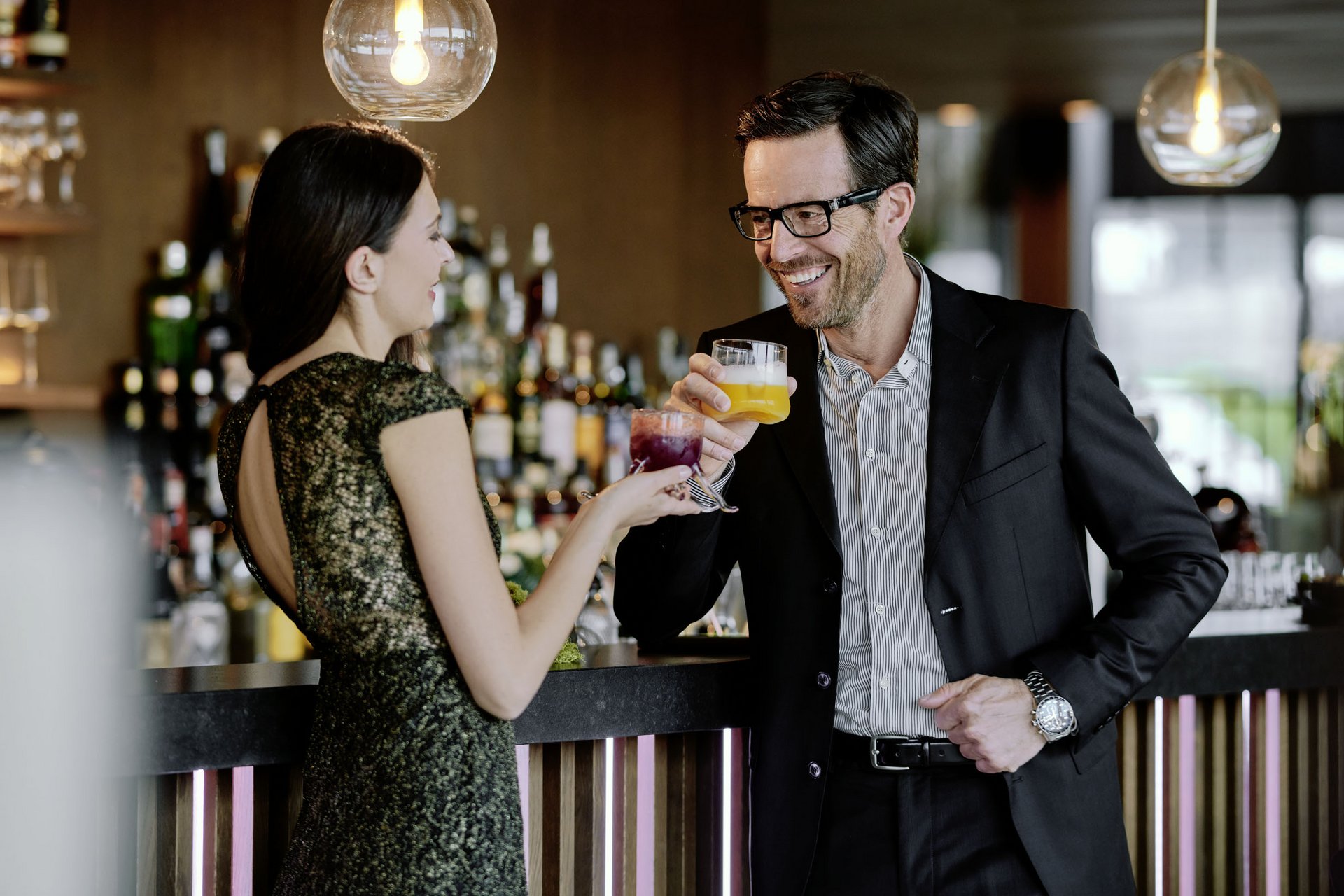 Pleasure for the eyes
and the palate
A five-star gourmet holiday
Freshly caught fish from Lake Garda, marinated in high-quality, regional olive oil and the lemons that naturally flourish here, developing their full aroma... Add to this an incomparable view of Lake Garda with its picturesque lakeside villages. In the distance: striking mountains and a sky as resplendent and blue as a precious gem. This is true pleasure for all the senses. At the Quellenhof Lazise we serve you masterpieces of Mediterranean cuisine with an international touch. The best ingredients, fresh herbs, spices, and passion – that is our secret recipe.
Our five-star gourmet half-board
Begin your day in leisure and tranquillity, at a rhythm that suits you best. Our breakfast buffet is available from 7:30 a.m. to 11 a.m. and includes everything your heart could wish for: freshly baked goods, aromatic coffee or the finest tea, cheese and sausage specialities, a vitality corner to give you that essential morning vitamin boost, and freshly prepared egg dishes from the show kitchen. In the evening, our kitchen team will spoil you with the finest creations as you enjoy our six-course dinner menu. Whether you choose fish, meat, or vegetarian options, the refined dishes made from select high-quality ingredients will whisk you away to the pinnacle of culinary pleasure. The homemade pizza baked in our pizza oven is a staple of Italian cuisine and a special treat for the palate. Our kitchen team is happy to accommodate vegan, lactose-free, gluten-free, or histamine-free diets. We kindly ask you to inform us of your food intolerances or preferences at the time of booking.
Enjoy our exclusive gourmet half-board with rich breakfast buffet and six-course menu of choice with culinary delights in the evening.
On balmy summer evenings, sip a cocktail at Tiki Sky Bar on our rooftop and experience magical sunsets over Lake Garda.
Let your gaze wander over the extensive gardens and the adjacent olive groves and enjoy delicious culinary creations at lunchtime.
A feast for all the senses
The flavours and aromas of our sophisticated gourmet creations take you on a culinary journey. The atmospheric view in our Panorama Restaurant with its stylish design elements provides the perfect setting for the six-course gourmet dinner. In the evening, the last rays of sunlight filter through the retractable glass roof as you enjoy a colourful and mesmerising sunset that stirs chills of delight. On clear nights, the starry sky sparkles above you, adding to the enchantment.
Mediterranean refreshments for in between
If you feel a little peckish between the rich breakfast buffet and the exquisite six-course dinner menu, our Bistro La Piazza is the place to be. Curious about the name? A piazza is the central square of an Italian village, its heart, where life pulsates throughout the day. And this sentiment extends to the Quellenhof Luxury Resort Lazise. Make yourself comfortable on the sun-kissed terrace and enjoy the view of our extensive garden, complete with pools and a natural bathing lake, all framed by gentle olive groves. Meanwhile, enjoy Italian antipasti, crunchy salads, and freshly made pasta, as well as delicious ice cream, refreshing fruit, and homemade cakes from our in-house patisserie.
The perfect pairing for your gourmet pleasures
Extraordinary. Aromatic. Diverse. These words fittingly capture the wine collection at our five-star luxury resort. Over 800 distinguished and renowned high-quality wines are stored in our wine cellar, each meticulously chosen by our sommelier. This range is truly unique at Lake Garda. Choose from fine wines produced by small, local, top-quality wineries or great vintages from well-known vineyards. Our sommelier will be delighted to advise you and help you find the wine that best suits your preferences and gourmet menu.
The romantic setting for your special occasions
Are you planning a marriage proposal? Celebrating an anniversary or a milestone birthday? Or do you just want to tell your other half how much you love them? Then a romantic boat ride at sunset or a Vespa tour with a picnic in the lush green vineyards surrounding Lake Garda is the perfect setting for such a special occasion. We would be happy to help you organise your romantic excursion.