Bike or e-bike at Lake Garda: immerse yourself in beauty
Pleasure tours on two wheels
As you pedal, the mountain and lake landscape passes you by. With each push, you ascend higher; thanks to the battery-powered boost, the climb feels almost effortless. The air becomes cooler, nature calmer, and Lake Garda dwindles below you. At the top, you pause to soak in the view: simply spectacular. Cycling on an e-bike at Lake Garda is incredibly beautiful. In terms of steepness, distance, and trail conditions, unparalleled diversity awaits you here, making the region a true paradise for leisure cyclists, racing cyclists, mountain bikers, and downhillers.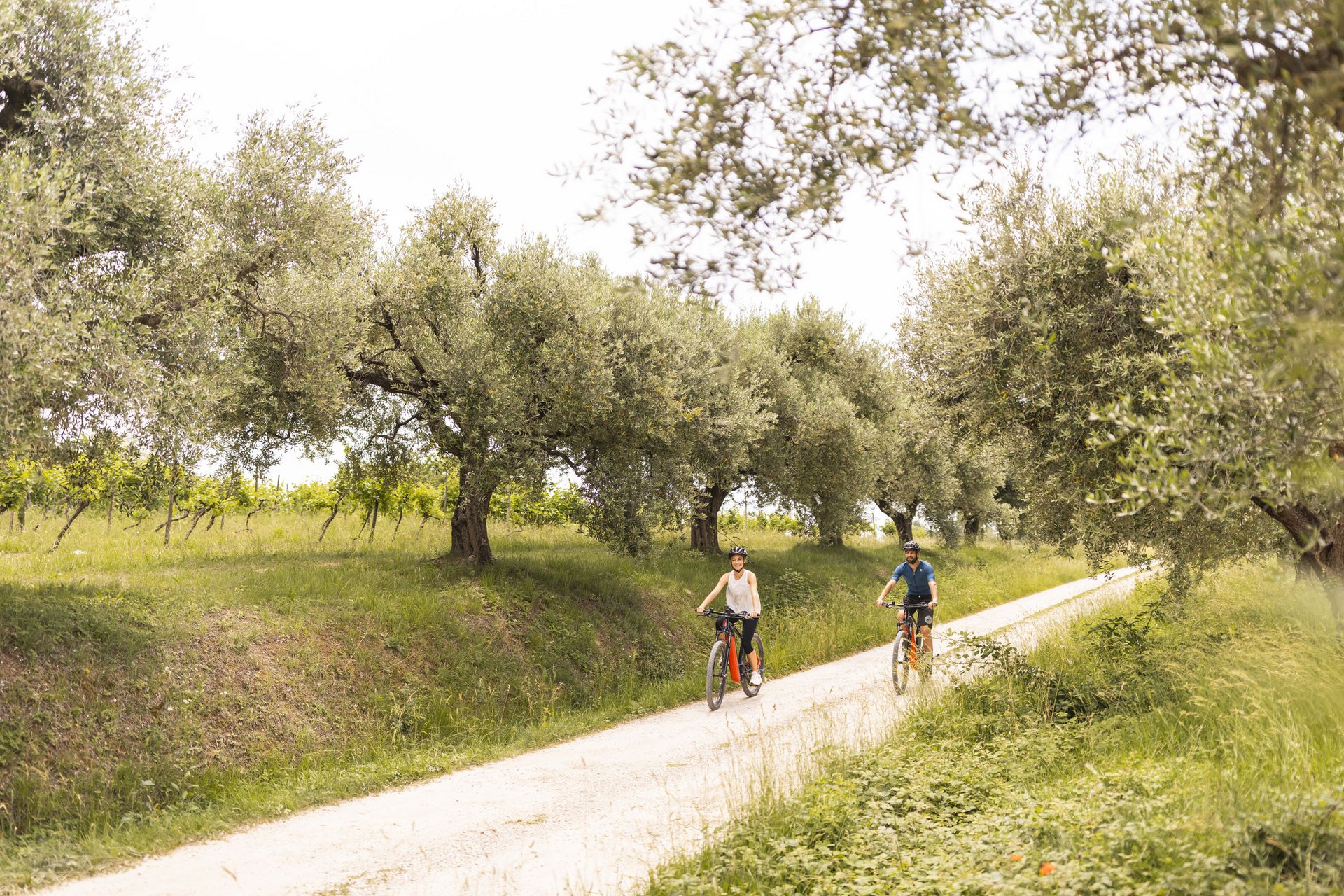 Here are some tours for you and your e-bike at Lake Garda
As varied as the tours for riding your e-bike near Lake Garda are, they all have one thing in common: they are wonderfully panoramic. Cycle around Lake Garda, ride from our 5-star hotel in Lazise to the deep blue Lake Ledro, climb the Tremalzo Pass (1,845 metres above sea level), or enjoy cycling up Monte Brione (376 metres above sea level) – the possibilities are endless. Some of the routes are also ideal for families to enjoy (e-)biking in Lazise. For those craving a steeper and more adrenaline-fuelled experience, the Sentiero 601 trail is a daring choice. First, you have to master the challenging climb up Monte Altissimo (2,074 metres above sea level) and then, at the Damiano Chiesa hut, you plunge back down over 2,000 metres towards the valley on the legendary, technically demanding super trail. Please note that this downhill route is not suitable for e-bikes. Lake Garda has other more suitable options for your e-powered fun.
Rent a bike at our bike hotel in Lazise.
At the Quellenhof Luxury Resort Lazise, you'll find robust and high-quality bikes to suit every need and terrain. From professional bikes for adults to options suitable for children, our rental options cater to all types of cyclists. Whether you're planning an off-road adventure or a downhill thrill, a leisurely tour or a challenging mountain route, our biking professionals are on hand to assist. Let us help you find the perfect bike or e-bike for your Lake Garda adventure, ensuring maximum cycling enjoyment and exceptional range, allowing you to reach extraordinary locations. Now, your unique bike excursion can begin!