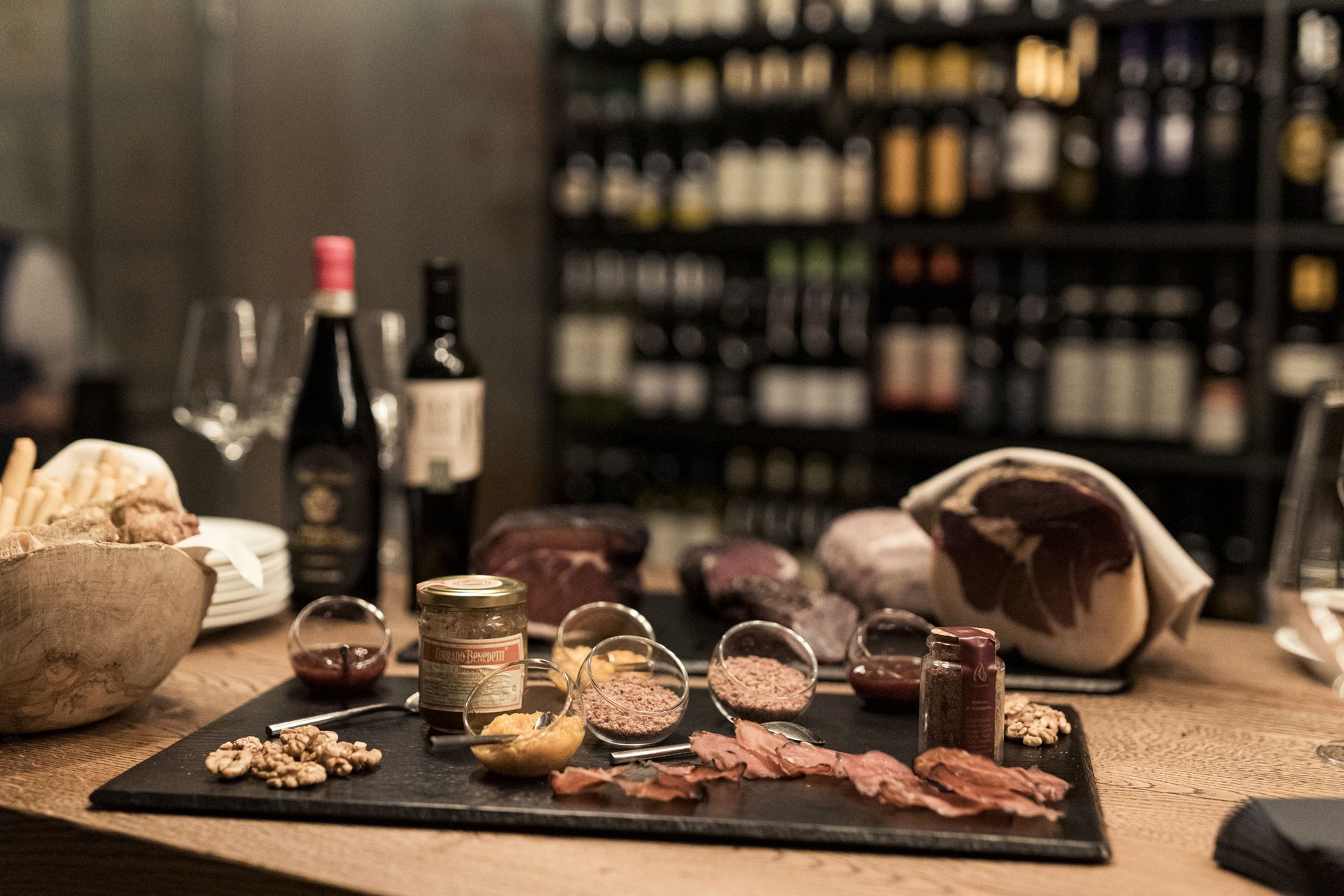 Full-bodied and simply delicious
In vino veritas
Full flavours, fruity notes, a velvety mouthfeel, and a gentle sea breeze to accompany it: fine wines are as intrinsic to Lake Garda as five-star luxury is to the Quellenhof. Our wine cellar at the Quellenhof Luxury Resort Lazise stores a collection of noble and rare vintages. Almost 1,000 high-quality wines are lined up here. This huge variety is truly exceptional at Lake Garda. Our sommeliers take great care of their treasures and are constantly expanding the range. They focus on niche products from small local wineries with exceptional quality and on wines that highlight the unique characteristics of their growing region. Our team takes special pride in their collection of fine Amarone vintages and, of course, the renowned Tuscan wines. Come and savour these exquisite wines for yourself!
Wine and food tours
at Lake Garda
You gaze over the dense vineyards, seeing colourful houses basking in the sunlight and mountains towering in the distance. Swirling your glass, you marvel at its hue before taking a sip. A symphony of aromas dances across your palate. You can savour these unique sensory experiences at the Masi winery near the Quellenhof Luxury Resort Lazise. Owned by the Boscaini family since 1772, the winery combines ancient Roman winemaking knowledge with modern techniques. You can taste the final result during an exclusive guided tour through the vineyards and the large cellar with its huge cherry wood barrels.
All experiences can be booked over the phone or in person at our reception.
Our insider tips on Masi wines
This light red wine has a taste reminiscent of bitter almonds with fruity berry notes and a hint of vanilla. It is stored in huge 600-litre oak barrels and can be enjoyed just a few years after the harvest.
Compared to the Valpolicella Superiore, this red wine boasts a spicier profile with flavours of cherry, berries, and wood. The Masi winery has been producing Montepiazzo for over 650 years.
This is the most famous of the Masi wines, and its production process is quite elaborate. The grapes may only be grown in 18 specific municipalities in the Veneto region. After harvest, some grapes are arranged on wooden racks and dried in attics for four months to concentrate their sugars and aromas before pressing.